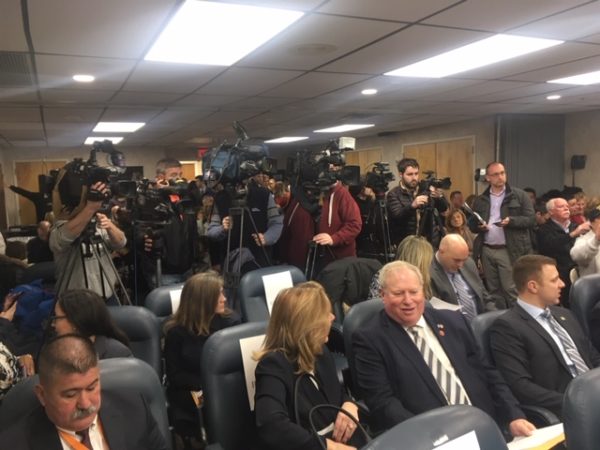 On February 25, 2019, Didit's Public Relations department conducted a press conference on behalf of CN Guidance & Counseling Services, a Hicksville, New York-based nonprofit organization whose mission is to improve the quality of life for individuals and families on Long Island affected by mental health and/or a substance use disorder. Didit provided strategic counsel and handled several tactics, including planning, press pitching and attendee invitations. The event saw a large media and attendee turnout.
The press conference featured a ribbon cutting of the organization's state-of-the-art mobile recovery unit to help battle the local opioid use epidemic, the first unit of its kind to service Nassau County. The unit was funded by the New York State Office of Alcoholism and Substance Abuse Services (OASAS).
News reporters covering the press conference included Greg Cergol of NBC 4 NY; Jodi Goldberg of Fox 5 NY; Sophia Hall of WCBS NewsRadio 880; Robert Brodsky of Newsday; Ed Chin of Long Island Press; and Chelsea Irizarry of FiOS1 News. Additionally, videographers from WPIX 11 and News 12 Long Island videotaped the conference as well as features of the mobile recovery unit. The press coverage resulted in broadcast, print and online placements, including but not limited to:
NBC 4 NY:
https://www.nbcnewyork.com/on-air/as-seen-on/Mobile-Unit-Helps-Fight-Opioid-Crisis-on-Long-Island_New-York-506341292.html
WCBS NewsRadio 880:
https://wcbs880.radio.com/articles/nassau-county-unveils-new-mobile-drug-recovery-unit
FiOS1 News
http://fios1news.com/news/state-of-the-art-mobile-recovery-unit-officially-deployed-in-nassau/
Newsday
https://www.newsday.com/long-island/nassau/cn-rv-mobile-opioid-guidance-1.27750992
In addition, several elected officials and local notables attended the press conference, including OASAS Long Island Field Office Regional Coordinator Antonette Whyte-Etere; members of the New York State Senate and Assembly; Nassau and Suffolk County legislators; Town of Oyster Bay Supervisor Joseph Saladino; the NYS Office of Mental Health; retired News 12 Long Island Anchor and Islip & Southampton Town Opioid Addiction & Recovery Task Force Co-Chair Drew Scott; CN Guidance & Counseling Services' executives, board of directors, mobile recovery unit team and staff; individuals who are in recovery from substance use; and other guests.

Latest posts by Didit Editorial
(see all)