May 8, 2014: Infographics have always been around, but the emergence of "Big Data" has caused the display of trends and statistical correlations using "little men" and 3-D pie charts to become more popular than ever. Why? As a society we've become inundated with piles of alphanumeric data each day. Infographics takes this content and boils it down to essential, understandable visual elements. Additionally, as a content building/content marketing tactic, infographics can provide a break from "dry text," causing users to  spend more time on the page. But as the novelty of infographics has faded, more and more bad infographics saturate the web landscape. In order for infographics to be effective, they need to use multiple data points to tell a cohesive story or prove a theory. After some research, I found some interesting trends affecting the infographics space.
Video-based infographics are very popular, and are more effective than their static counterparts. They've even made their way into popular documentary movies like Inequality for All.
Most Popular Infographic Types
Pie charts are the most popular infographics type overall, although in my recent experience, 3-D modeling is used in their production less frequently thatn the use of flat, simple graphic styles. It's interesting to note that Tag Clouds — once very popular a few years ago — has been on a downward trend ever since. Originally Tag Clouds were a visual representation for text data, typically used to depict keyword metadata (tags) on websites, however the SEO importance of such meta data has been lessened over time, making the TagCloud less popular.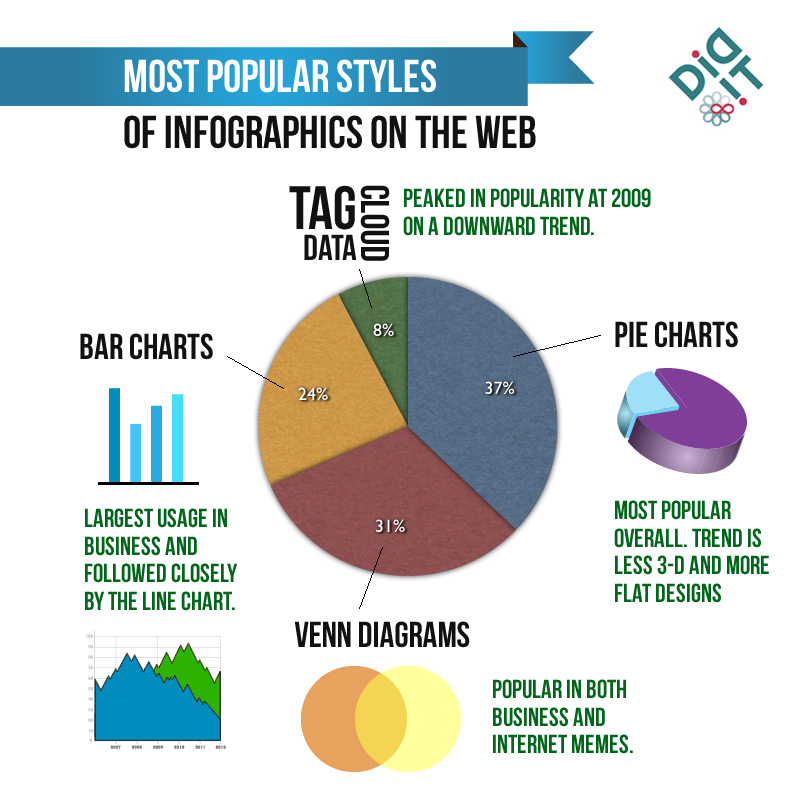 Use of Dynamic Infographic Builders
Don't want to hire a designer to build your infographic? No problem. Much like the "quick and easy" website builders out there, these automated tools like infogr.am and visual.ly help users create custom infographics. These data visualization tools are growing in popularity, but do not allow the control many designers would like, and they have a standard "templated" look that makes such  infographics look the same. In the future, look for these tools to offer more features.
Use of Video Motion Graphics and Interactive Graphics
Video-based infographics are very popular, and are also more effective than their static counterparts. They've even made their way into popular documentary movies  like Inequality for All. You can show much more data with video; when combined with pop culture topics, such images can help make content easily shareable. Video-based infographics are not easy to create, and some very sophisticated motion graphics require training in Adobe After Effects or Flash. Designers can create infographic s with interactic elements that give users control of the data to be displayed. In some cases, you can get extraordinary results like the New York Times interactive city map. Since infographics like these always trump static images for virality, expect more of this in the future.
Humorous Infographics
Often displayed on Graphjam, a part of cheezburger.com, humorous infographics take our love for  bar charts and venn diagrams to make really funny observations and memes about life. These infographics are very "sticky" and can be posted on a larger number of sites (there are over 222 million humor sites on the web) than the average business infographic.
Animated GIF Infographics
Right now, animated GIF infographics are a relatively rare thing, but they can be a powerful way to convey the aspect of time series data on competing data sets. Animated GIF infographics combine some of the advantages of motion graphics with the static capabilities of a standard infographic. In some cases, they can become the germ of an Internet meme. As an example, I created this animated statistic for the body count of HBO's Game of Thrones.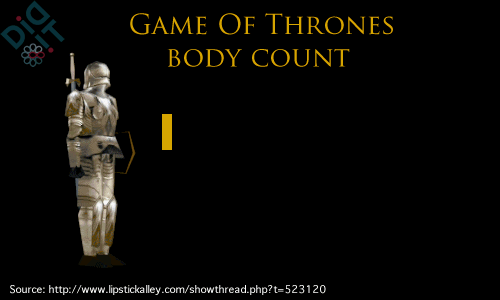 If it's educational, humorous, controversial, or newsworthy it can go in an infographic. And as technology moves forward, there will be an increased focus on pushing the boundaries of infographics further. For example, using HTML 5, you can build live data visualizations and mixed media presentations (video, data, motion graphics) to tell your story in the most compelling way. On top of this, infographics will continue to gain in popularity and momentum, as few business are using them regularly for content marketing. As long as you concentrate on the main narrative, infographics will have a bright future on the Web.

Latest posts by Didit Editorial
(see all)