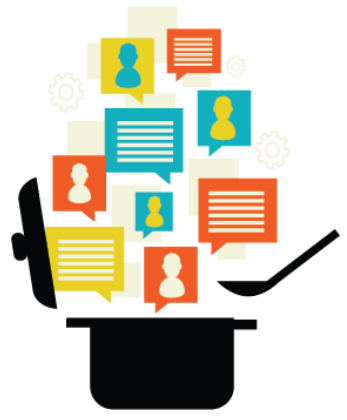 September 19, 2015: Content marketing is proving to be an excellent way for businesses — both large and small — to gain interest from relevant, qualified customers doing pre-purchase research online.  And Didit has just published a new, free ebook: The Content Marketing Cookbook, by CEO Kevin Lee. It's  packed with powerful, original tips for creating content that will engage your site visitors and help you reach your business goals.
The Content Marketing Cookbook will show you how to:
1. Create content that truly satisfies your online audience's hunger for information.
2. Leverage emotion, arguments, and controversy in your content so that it cuts through the clutter.
3. Use the "yearbook approach" to create articles your online audience will gladly share.
4. Unblock and inspire your content writers and producers.
5. Recycle and reprocess content so no assets are wasted.
6. Make use of guest blogging and syndication opportunities for your content.
7. Develop a diversified content portfolio.
8. Budget correctly for content marketing initiatives.
As Kevin observes in the book's introduction, "while the term "Content Marketing" is a new term, most of the practices it describes certainly aren't. Businesses have been mass-serving sales literature, brochures, handouts, white papers, and case studies for years. What's changed in the past few years — and it's a big change — is the mindset of those creating such content, which now reflects the fact that the online audience is looking for content that is both useful and can be trusted.
You will be using content marketing to build an enduring network of connections and relationships, and building this network requires an investment that will not likely be recouped in a few months. Without metrics and attribution models to justify your efforts, your battle against the short-term thinkers and number-crunching data geeks may be lonely and at times hopeless. But if you understand what you are doing, think like a publisher, make your case, and never doubt the fact that that your content is a valuable asset whose value  – in the form of sales, profitability, and market share — will realize itself in time, you will not fail."
Here's The Content Marketing Cookbook's  Table of Contents:
Introduction: Why Invest in Content?
Chapter 1: Creating Content That Satisfies
Chapter 2: Use Emotion to "Spice up" Content
Chapter 3: Use the Yearbook Approach
Chapter 4: Tap the Power of Arguments
Chapter 5: Banish Bland, Boring B2B Content
Chapter 6: Five Techniques For Beating Writer's Block
Chapter 7: Ramping Up Content Production
Chapter 8: Why Blogging Still Matters
Chapter 9: Guest Blogging and Syndication
Chapter 10: Developing a Diversified Content Portfolio
Chapter 11: Budgeting for Content Marketing

Latest posts by Didit Editorial
(see all)