March 25, 2015: WordPress is a wondefrul CMS but SEO Black Hat types have gotten very good at spotting pages and posts where comments can be placed without restriction. Once these pages and posts are identified, a flood of comment spam can result, overwhelming the unwary webmaster.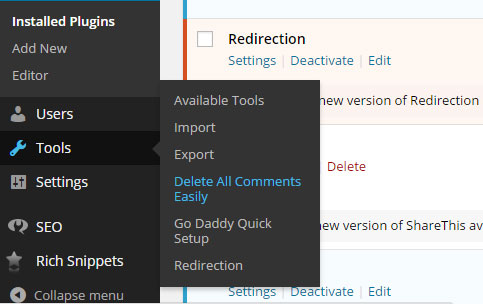 Fortunately, there are many good antispam plug-ins to prevent this scenario from happening, and WordPress.org provides an updated list of them.While these antispam plug-ins do a good job of protecting you from future comment spam, they aren't designed to remove comments already placed by comment spammers. These comments — especially if you have a lot of them — can slow site performance (something that will not help your site survive "mobilegeddon").
That's where Delete All Comments Easily, this week's WordPress plug-in of the week, comes to the rescue. This plug-in does one thing and one thing only: it removes all comments on your site with a press of a button. This can save you hours and hours of time.
Download the zip file, upload it to your WordPress plug-in directory, and activate it in the "Tools" area. You'll be presented with the following screen: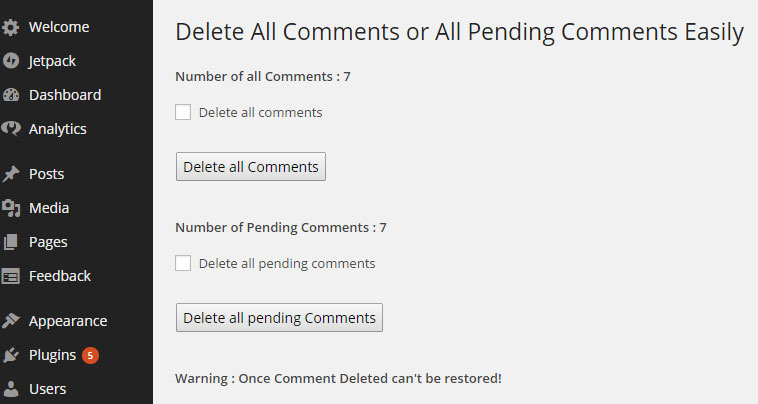 Just hit the button and you'll be rid of old comments forever. Be aware, however, that this action is irrevocable.
Now install an anti-spam plug-in and you'll be on the road to a comment spam-free future!

Latest posts by Didit Editorial
(see all)
Summary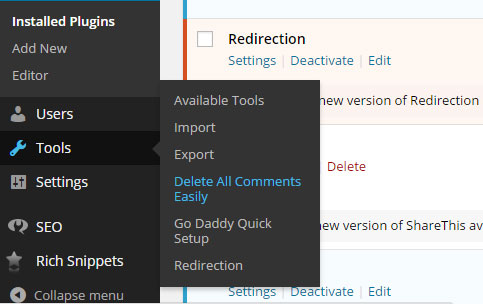 Article Name
WordPress plug-in of the week: Delete All Comments Easily
Description
Didit's WordPress plug-in of the week is Delete All Comments Easily. This useful plug-in can save you hours of time cleaning up comment spam.
Author