June 23, 2015: I've been on LinkedIn as long as I've been writing digital content professionally. Publishing on LinkedIn Pulse seemed like a natural fit. I found success with my third LinkedIn Pulse post, entitled "New Grads: Do What You Love To Love What You Do."
This post has received at least 1450 page views, 104 likes and 8 comments.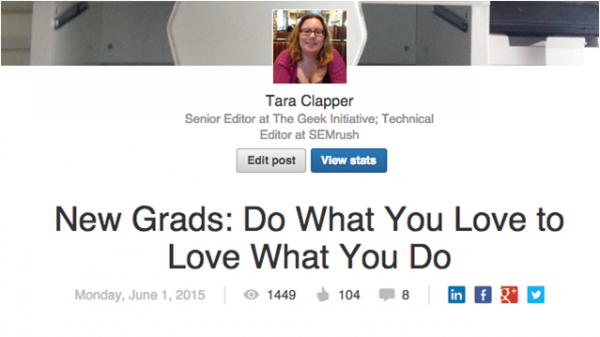 Why Publish on LinkedIn Pulse?
Publishing on LinkedIn Pulse seemed like a valuable choice for my personal brand for many of the same reasons I'd want to guest post on a prestigious blog:
LinkedIn Pulse provides a platform for professionalism and notoriety.
It enables me to stay connected to others in my field and in the demographic(s) I want to reach.
Pulse helps me expand and establish myself as an authority in the field of digital technology while still retaining the interest of my connections in publishing and the arts.
When blogging on an appropriate topic, I can slip in links to both my personal and professional brands.
Pulse is professional and a blog and it's social; I'm not getting that sort of connection on any other network.
I can find new connections and see who is interested in my content and profile.
Before You Begin…
Analyze Your Profile
Before you think about what to write about on LinkedIn Pulse, consider your topics of expertise. Then, take a look at your profile and your connections. Who are you connected to? Who do you want to reach?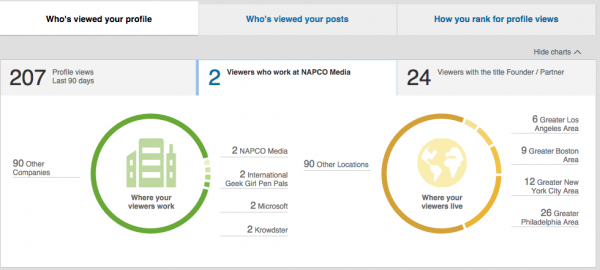 My profile analysis reveals that my profile is viewed by people in tech, publishing, and self-identified geeks. That's very consistent with my personal and professional brand. I'm getting the most views from people local to me, too.
Examine LinkedIn Featured Tags and Categories
LinkedIn has many categories that hit the sweet spot: they are interesting to me, I can speak with some amount of authority in those areas, and my connections are also interested in them. This will differ according to your industry, but I like to aim for inclusion in categories like social media, professional women, technology, entertainment, and best advice.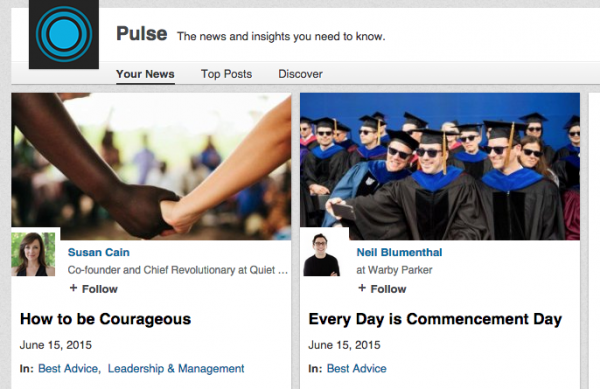 You can browse categories within Pulse for inspiration. What do you like to read?
LinkedIn also utilizes hashtags in Pulse posts for special events. I came across #IfIWere22 in a post I was reading; it's for advice you'd give your 22 year old self and was aptly timed to assist recent college graduates active on the professional network. As with most networks, editorial initiatives and seasonal content have the potential to do well.
Choose your title carefully: if it's tweeted, will it fit into a tweet? If you're not sure about your title, consider using CoSchedule's Headline Analyzer to help.
 Analysis of a Successful Post:
Here's a quick look at how my post did using the metrics LinkedIn Provides:

Most of the post's success occurred over two days (weekdays).

LinkedIn Pulse shows me that my post is reaching people in my industry (I work in marketing at a tech company), people in my area (I'm located near Philadelphia), and that my post was primarily discovered via Pulse itself.
Pulse also offers a dashboard-style glimpse at my analytics.

What did I do to succeed?
Published and promoted the post starting Monday morning
Used a promoted LinkedIn tag (#IfIWere22)
Published a timely topic: advice for recent grads around graduation time
Addressed audience in title ("New Grads:")
Wrote long-form content: 1757 words
Exercised an extremely honest and genuine tone; this is necessary to connect with an audience in general and millennials specifically
Wrote in an appropriate tone and voice
Asked my friends, family, coworkers to share the post on social
Used a 'power word' (love) in my headline
Kept paragraphs short and considered the mobile reader
Broke the long content into readable sections
What Could I Have Done Better?
Provided a short video intro
Selected a better header image
Re-shared on Twitter a few more times
Responded to comments faster
Have you had success on LinkedIn Pulse? What did you do to make it happen? We welcome comments and additional tips.
Didit looks to industry experts for their opinions on trending topics and digital strategy. Are you an expert in tech, social media, or marketing? We'd love to hear from you. 

Latest posts by Didit Editorial
(see all)
Summary
Article Name
Analysis of a Successful LinkedIn Pulse Post
Description
Have you taken advantage of LinkedIn Publisher yet? SEMRush's Tara Clapper shares insights on strategically creating a LinkedIn Pulse Post.
Author