Latest Addition Marks Ninth Acquisition in Four Years, Further Solidifying Didit's Leadership Position in Integrated Marketing Services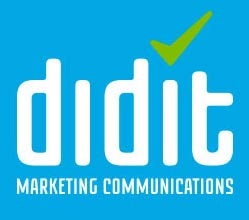 MINEOLA, NY – July 6, 2016 – Integrated marketing and communications agency Didit, based in Mineola, announced today the acquisition of Freshbrick, Inc., an industry leader in branding through print, web, direct mail, broadcast and social media, in Holbrook and Manhattan, according to Dave Pasternack, CEO and co-founder of Didit. This is the agency's ninth acquisition in four years, allowing it to fully expand its communications services and enhance its client and prospect offerings.
Freshbrick's varied services, which include account management, research, strategic planning, media, creative and digital marketing, will strongly complement Didit's integrated marketing and public relations and leading-edge digital services. Freshbrick will move its office to Didit's headquarters at 330 Old Country Road in Mineola, and Freshbrick co–founder, Don Donaudy, will join Didit's executive team.
"Freshbrick's idea-driven and strategy-based philosophy, as well as its strong work ethic and passion, is a perfect match for Didit, which consistently strives to provide our clients with the exceptional marketing tools they need to succeed in an increasingly competitive marketplace," said Mr. Pasternack. "As a growing company, Didit will continue to seek out new opportunities to broaden our base of clients and services through organic sales and strategic acquisitions and partnerships."
"This is an exciting step forward, and I am eager to build on Freshbrick's solid foundation with the support and expertise that Didit can bring to our client base," said Mr. Donaudy.
About Didit
Founded in 1996, Didit is a fully integrated marketing and communications firm, with offices in Manhattan; Mineola, Long Island; and Waltham, Massachusetts, as well as a direct marketing division Didit DM in Plainview, LI.  Recognized as an Inc. 500, Deloitte Fast 50 and Fast 500 company, Didit is a privately-held industry pioneer that offers an unparalleled range of marketing, public relations and digital services, from "postcard to post-click." The agency's experienced professionals, innovative strategy, best-of-breed technology and advanced analytics provide a fully comprehensive marketing approach to businesses, delivering unmatched results for more than 200 clients across all verticals. Didit was co-founded by SEO/SEM thought leader, SEMPO founding board member, and Didit Executive Chairman Kevin Lee. For more information, visit https://didit.com/.
Media Contact:  Jeannette Boccini, Didit
212-499-6566 (office); 914-419-5999 (cell)
jeannette.boccini@didit.com

Latest posts by Didit Editorial
(see all)