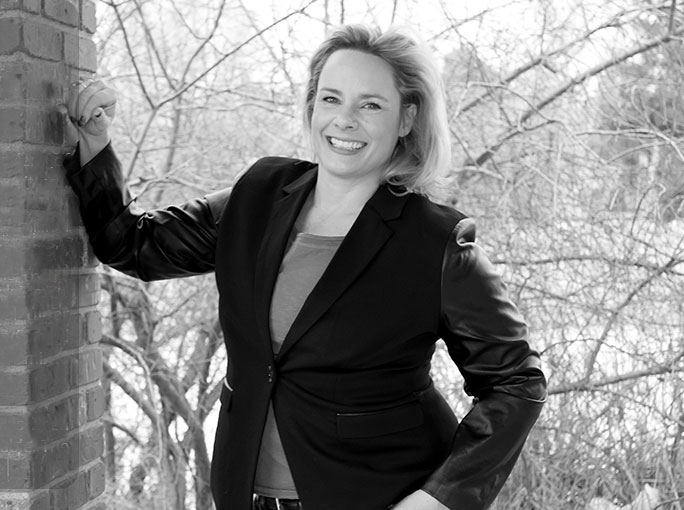 July 20, 2014: She's a leading authority on Linkedin Groups who's been listed on Forbes' Top 20 Women in Social Media list for the past three years. Her site is at www.linkedintobusiness.com. She also founded the popular #tweetchat known as #linkedinchat (for more info, just search for #linkedinchat every Tuesday night at 7 PM EST on Twitter or Tweetchat.com. You can also find the latest #linkedinchat transcript at storify.com.)
Didit: To start off, please tell me about the Business Group you manage.
Viveka Von Rosen: I have several LinkedIn groups – my most active is the one I created to support the #LinkedInchat called LinkChat.  We started it in 2011 and I use it to follow up with folks who have questions or comments about our Tuesday night tweetchats.
Didit: How long did it take for your group to reach critical mass?
Viveka Von Rosen: I have to fess up here.  I know the power of groups – as evidenced in some of the larger groups I co-moderate (LinkedStrategies) but I personally have not chosen my LinkedIn Groups as a platform I invest a great amount of time in. Mainly because I get better ROTI (return on time investment) elsewhere. So to answer your questions, I don't think we have hit critical mass in the 3 years we've been a group.  That's entirely my fault. I'm not putting the needed time and effort into my group to make it viable. In fact, my LinkedIn Community on Google has proven a much higher ROTI so that's where my efforts go.  It has grown to almost 900 members in a few months. We've had LinkChat for over three years and are barely at 300 members (who are not terribly engaged).
Didit: What are the benefits have you seen?
Viveka Von Rosen: I'm a co-moderator of a very large group on LinkedIn – and they've done very very well. Mainly because they pay a moderator to manage the group which is almost a full time job. I know they generate leads consistently that not only pay for the moderator's time, but are a huge factor in driving traffic to my colleague's website.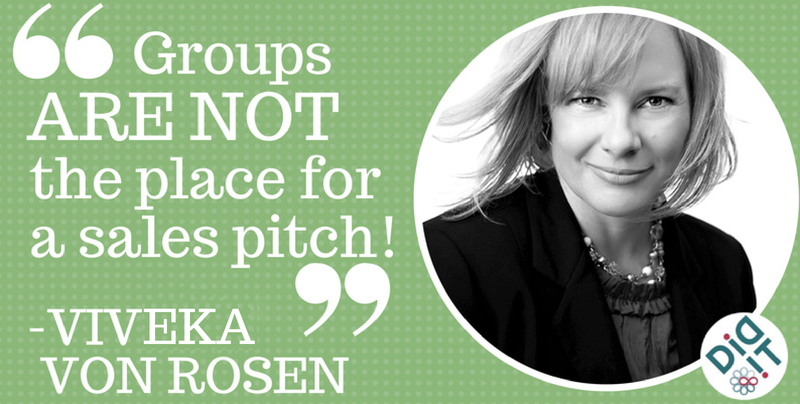 Didit: How much participation is necessary to sustain meaningful conversations?
Viveka Von Rosen: More than I'm doing!  It probably isn't that time-consuming for a smaller group like mine. I should really be in there daily, encouraging conversation and posting updates to engage my audience. Because I haven't seen the ROTI, it's not a priority for me.
Didit: What are the pros and cons of starting a new group? The pro of starting your own group is that you own it. You can use the announcements feature, the automated reply templates, and various other excellent features. The cons are that it's extremely time-consuming. I don't think it's an either/or situation. You can certainly start your own group as well as joining pre-existing groups.
Didit: Have you set up the permissions area?
Viveka Von Rosen: I have set up my permissions area – and mostly I let the group moderate. I have a low count spam filter – so if enough people flag a spammy article,  it gets tossed. With SWAM – sitewide auto-moderation – I've realized I need to moderate much less than I used to.
Didit: What filters and restrictions have you set into place?
Viveka Von Rosen: In order for someone to join my group they have to have at least a few connections and be moderately active on LinkedIn. Again it's not such a big deal since LinkedIn employed SWAM. While I think LinkedIn kind of threw the baby out with the bathwater on that one, it has cut down on spam.
Didit: How can LinkedIn groups be used in prospecting?
Viveka Von Rosen: One benefit of groups – your own and others – is that you can easily interact with individuals within that group without having to be directly connected to them. So I can send a message to a hot prospect through a group. That being said, LinkedIn Groups are not the place for a sales pitch! It is a good place to start engaging with someone that you want to eventually do business with. So if you tend to post extremely helpful useful and engaging articles, you're going to up the level of your social clout, probably get more connections, and drive more business.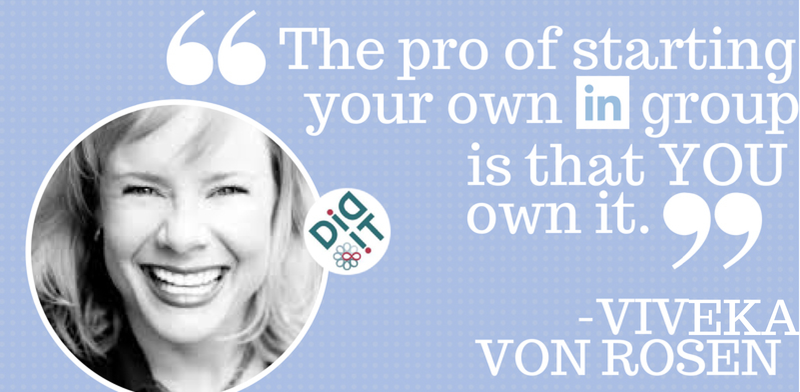 Didit: What's the best way to promote your group?
Viveka Von Rosen: I wrote a post for the Social Media Examiner on the best way to promote a group – you can find it here: http://www.socialmediaexaminer.com/linkedin-group-tips/. Basically, I say it's important to promote it outside of LinkedIn. Jill Konrath does an excellent job with this on her Fresh Sales Strategies Group.  She created an email that as well branded with easy links and a real "what's in it for them" message. Groups can be just one more piece of noise in your social atmosphere. You need to prove to your network that joining your group will be a value-add to them.
Didit: What's the best kind of content?
Viveka Von Rosen: This is kind of a platonic answer – but the best kind of content is the content that your audience is going to be interested in! You might also throw up some controversial stuff. That will get them talking.
Didit: How do you feel about job postings and groups?
Viveka Von Rosen: I do allow people to post jobs in several of my groups. I think it's a nice service and of added benefit to the membership. One of the best "draws" I've seen was suggested by my friend Miles Austin.  He suggested using the Promotions tab almost like a Groupon feature where your group members could offer special discounts to the other members for their products and services.   Discounts that were not really offered anywhere else. I thought this was a great idea. I just need to implement it. I do promote my LinkedIn group in my blog. At the end of my LinkedInChat articles I'll put a link to my Google plus community and my LinkedIn group. The community tends to get the most followers and interaction.
Have a question about Social Media? Contact us.

Latest posts by Didit Editorial
(see all)
Summary