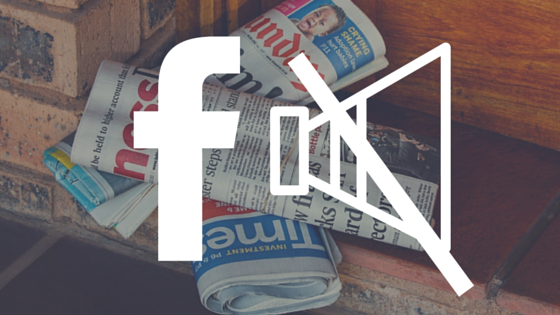 June 7, 2016: New data developed by SocialFlow, a firm providing publishers with content distribution and analytics services, shows publishers continuing to lose organic reach on Facebook, possibly due to recent algorithmic changes made to reverse a decline in organic content sharing among Facebook's users.
According to The Financial Times (one of SocialFlow's data partners), publisher-generated stories posted to Facebook "reached an average of 68,000 users in May, down from 117,000 in January," a reduction of 42 percent.
That's a huge drop whose cause isn't immediately known outside Facebook. But it's possible that it's a consequence of recent algorithmic changes designed to surface more user-generated content in Facebook's News Feed. According to SocialFlow CEO Jim Anderson,
Facebook might have prioritized posts from individuals to try to reward them for sharing more personal stories on the network, as reports said the company was worried people were writing less about events or thoughts from their own life. It could also have been trying to recalibrate the algorithm so people's feeds did not feature several articles from the same news organization consecutively and to prioritize video content.
The hypothesis that Facebook's increased focus on video content may be crowding out non-video content (of the kind traditionally provided by publishers), is supported by data from NewsWhip, a social media analytics firm, which analyzed engagement metrics for major publishers on Facebook for the past year, and found both a "noticeable decline in engagement" and a significant increase in video content:
It's hard to quantify, but it stands to reason that the increased attention on these videos mean that there's less room to show everything in the news feed. If people are spending more time watching and interacting with videos from the publishers that are posting them, they'll see more and more. That means there's less chance of them coming across a link to a story that their friend has liked.
Why does this matter for marketers?
Publishers and marketers have both enjoyed a relatively unencumbered path to reaching interested readers and prospects for the past decade. When search engines were new, obtaining visibility for their content on SERPs was relatively easy. But as competition accelerated, and search engines began to more aggressively monetize their screen real estate, doing so became difficult and in many cases impossible.
The same is happening on social networks. As recently as 2012, Facebook claimed that business-hosted "pages organically reach about 16 percent of their fans on average." But after a sales deck was leaked to Advertising Age in late 2013, Facebook was forced to acknowledge that "we expect organic distribution of an individual page's posts to gradually decline over time as we continually work to make sure people have a meaningful experience on the site." By March of 2015, organic reach had declined to just 2.6 percent.
Publishers and marketers alike have ample cause to bewail the loss of organic reach. Many justifiably feel that, after promoting Facebook on their  home pages and offline marketing collateral, building communities, and otherwise promoting Facebook, they've been the victim of an elaborate bait and switch.
But Facebook – like Google or any other private service – has the right to change its algorithm at any time, for any reason, and marketers and publishers have the freedom to elect – or not elect – to have a presence there. Obtaining organic reach, in this context, was a privilege that was withdrawn, not a right that was suppressed.
While the alternatives to obtaining organic reach are neither cheap nor entirely problem-free, marketers need to pursue a holistic strategy that minimizes their exposure to the reach-limiting algorithms of search engines and social networks. This means considering:
Paid media (promoted posts/PPC ads)
Native advertising (especially native video)
Content marketing whose audience development does not depend completely on social networks and search engines
Alternative (vertical) social networks
Event marketing
Offline media such as direct mail, outdoor, print, and radio
Traditional PR leveraging personal relationships
Influencer marketing (provided proper disclosure is provided)
In other words, marketers – and publishers too – will need to work much harder to reach the audiences that will find them relevant, and increasingly rely on paid channels to do so. Because the bulk of paid digital media is sold via auction, they'll need to master each the nuances of each auction, and design profitable campaigns that work in each marketplace. Those that can manage this process with maximal efficiency will fare best in what is quickly becoming a "pay to play" digital media world.

Latest posts by Didit Editorial
(see all)
Summary
Article Name
Facebook again pinches organic reach: is "Context Collapse" to blame?
Description
A new report shows that publishers are losing organic reach on Facebook. What does this mean for marketers and brands?
Author