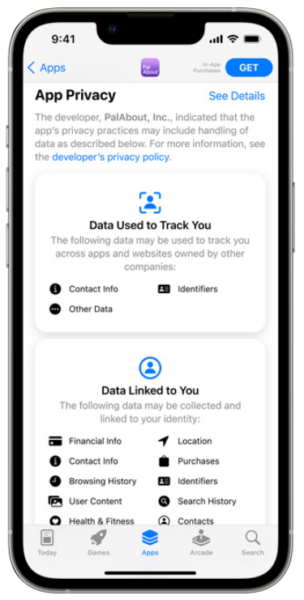 In April, 2021, Apple announced that the latest version of its iOS software would provide users with much greater control over the extent to which developers, marketers, and merchants could track their devices. Beginning with iOS version 14.5,
iOS and iPadOS (will) require developers to get your permission before tracking you or your device across apps and websites owned by other companies for ad targeting, for ad measurement purposes, or to share your data with data brokers.
While Apple's CEO Tim Cook has characterized this change (formally named ATT, for App Tracking Transparency) as a much-needed initiative to protect user privacy, Facebook CEO Mark Zuckerberg was quick to denounce it on the company's First Quarter earnings call, remarking that "Apple may say that they're doing this to help people, but the moves clearly track their competitive interests." Facebook subsequently ran a series of high-profile newspaper ads alleging that ATT would unduly harm small businesses, especially those dependent on Facebook to acquire leads and conversions, and harm consumers by making "the internet much more expensive."
While it remains doubtful that Apple's privacy-boosting change has made anything more expensive for consumers, it's already had a noticeable impact on Facebook's revenue. In its 3rd Quarter earnings report, the company noted that "Our advertising revenue growth in the third quarter of 2021 was adversely affected by reduced marketer spending as a result of limitations on our ad targeting and measurement tools arising from changes to the iOS 14 operating system."
In the report's companion call Facebook Chief Operating Officer Sheryl Sandberg added further clarity by noting that "We estimate we're underreporting iOS web conversions. We believe that real-world conversions like sales and app installs are higher… Targeting is a longer-term challenge. Our direct response products are built on user level conversions. And as a result of the iOS changes, we don't see the same level of conversion data coming through."
Why You Should Care
While industry pundits have characterized the entire controversy as a "battle of the titans"-style clash between Apple (which makes most of its money from device sales, not ads) and Facebook (whose revenue is almost totally reliant on ads, particularly those informed by cross-device tracking data), it's clear that marketers need to pay close attention, because many depend on Facebook's ability to accurately track user behavior, correctly attribute conversions to ad spend, and accurately describe the customer journey.
According to reporting in Multichannel Merchant, many e-commerce vendors, particularly those relying on the Facebook Pixel to track conversions, are taking a big hit:
Custom audiences such as remarketing are already seeing sharp declines in their audience groups. For example, an ecommerce remarketing group often targets users who "added to cart" in the last 14 days but then abandoned. This type of targeted ad typically receives one of the highest Return on Ad Spend (ROAS) ad sets, with the ability to target thousands of users. Three weeks into the iOS 14.5 update there was a noticeable drop in ROAS.
What You Should Do
Apple's iOS changes represent a major change in the digital advertising ecosystem that will impact marketing efficiency across the board. Keep in mind that Apple isn't the only major company that's taking steps to safeguard privacy at the expense of marketer's data tracking abilities. Google, for its part, will eliminate 3rd party cookies – a popular tracking methodology – from its Chrome browser by late 2023 (Firefox and Safari have already phased 3rd party cookies out). All of this means that marketers must adapt to this changed environment, and the sooner they can adapt, the better.
Here, then are our recommendations for handling the change:
Diversify your marketing. The old canard about "putting all of one's eggs in a single basket" directly applies here. While Facebook is renowned for its multiple targeting levers giving marketers unprecedented accuracy into behavior, interests, and demographics, it's always a mistake to become over-reliant on a single platform for leads, conversions, and sales. Consider applying some share of spend to alternate digital channels, of which there are many, including SEM.
Double down on first-party data. Marketers that have obtained genuine consent from audiences with respect to receiving communications will be in the best position to weather the coming privacy storm. Take inventory of your communications initiatives with an eye to presenting information that users will be glad to receive in exchange for conveying some measure of PII (but don't abuse this relationship with spammy content).
Cross-check your reporting data. Don't expect that there will be a "single source of truth" with respect to campaign metrics in the foreseeable future. Instead, fully leverage more than one reporting tool while understanding the shortcomings of each tool. Given that Facebook has admitted that the fidelity of its reporting has already been compromised by Apple's iOS changes, it's now necessary to pay much closer attention to actual conversions as reported by your CRM or other sales data to determine campaign performance. Make sure that you are correctly passing source and campaign data to your CRM.
Investigate Facebook's emergent marketing tools. If you rely on Facebook for the bulk of your conversions, don't despair. Facebook will likely respond to the iOS changes by providing more tools to obtain leads and conversions from users operating within its "walled garden." According to COO Sandberg, these new tools will likely roll out sometime in 2022, so keep a close watch on the company's announcements.

Latest posts by Didit Editorial
(see all)