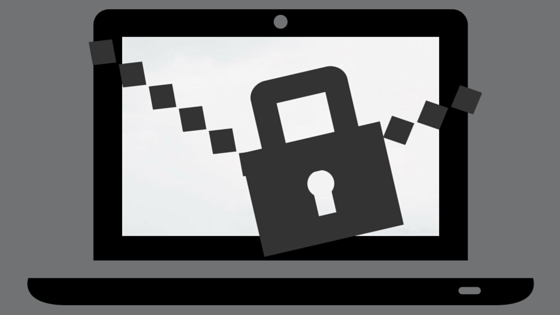 July 19, 2016: Widespread fears over data security appear to be spilling over into the willingness of Americans to share on social media channels, according to the NTIA (National Telecommunications & Information Administration), which released new data earlier this year compiled from a survey of 53,000 internet-using households conducted with the U.S. Census Department.
What are they afraid of?
The most frequently cited fear concerned identity threat (63 percent) and credit card/bank fraud (45 percent). This finding isn't surprising – in fact, an April 2016 poll by the American Institute of CPAs found that 50 percent of Americans expect to lose money to identity thieves this year.
But respondents also reported major concerns over being tracked by online services (23 percent), the government (18 percent), a generalized "loss of control of personal data" (22 percent), and fears over personal safety (13 percent):
Major Concerns Related to Online Privacy and Security Risks,
Percent of Households with Internet Users, 2015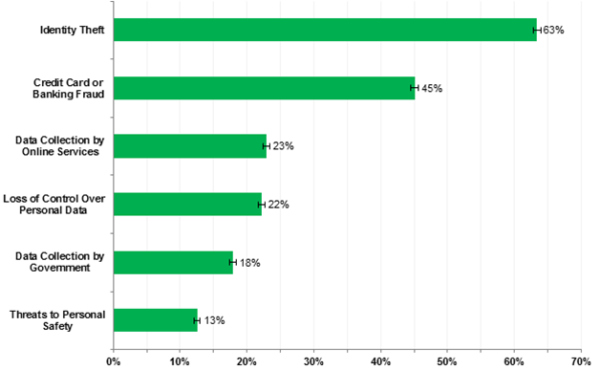 Almost one in five Americans – 19 million people — suffered a data breach in the 12 months prior to July 2015. Those that did reported cutting back on their internet activities – especially financial transactions and e-commerce – than those that hadn't suffered a breach.
But as the NTIA reported, "the apparent fallout from a lack of trust in the privacy and security of the Internet also extends beyond commerce. For example, 29 percent of households concerned about government data collection said they did not express controversial or political opinions online due to privacy or security concerns, compared with 16 percent of other online households."
Online Activities Avoided Due to Privacy or Security Concerns
by Selected Groups, Percent of Households (HHs) with Internet Users, 2015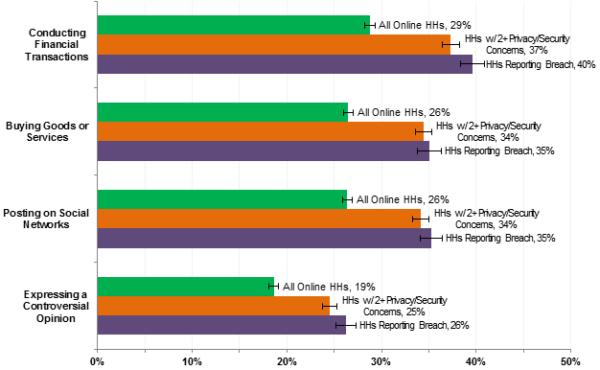 What does this mean for you as a digital marketer?
Concerns over Internet privacy and data security have been simmering for many years, with public awareness of the issue rising in response to widely-reported "mega-breaches," for example those recently affecting Target (2014), Home Depot (2014), the Office of Personal Management (2015), JP Morgan Chase (2015), AshleyMadison.com (2015), and the Panama Papers (2016).
Marketers aren't responsible for these breaches of course – hackers and criminals – often working offshore, are the real threat. But the NTIA's data should serve as a wake-up call to marketers – as well as policymakers and the public at large – because of the tight linkage between user trust (or lack thereof), online commercial behavior, and the willingness to communicate in First Amendment-protected activities via social channels.
The fact that a significant – and possibly growing — percentage of internet-using Americans are concerned about the threats of participating online means that marketers may need to rethink – and perhaps adjust — some current methods they are using or thinking of using.
Social media marketers
While most Americans are not aware that their digital traces – which include social media posts and profiles — are so easily mined and shared by public and private agencies, they have strong feelings about privacy and data security. For example, in 2015 Pew Research found that "93 percent of adults say that being in control of who can get information about them is important," with 90 percent saying that "controlling what information is colllected about them is important."
It's also becoming clearer to the general population that social media posts and profiles are being scooped up by private and public entities. For example, just last week, Director of National Intelligence James Clapper announced that all future federal background checks will "incorporate publicly-available social-media information in the security clearance process."
The idea, therefore, that each and every one of one's social interactions on Facebook, Twitter, et al may – in certain circumstances – be used against the individual isn't an alien concept anymore.  This idea is reinforced almost every day, as news that another person – famous or obscure – is tripped up by a post, comment, or tweet circulates on the newswires.
Social media marketers who define engagement as the willingness of users' to respond to their own messaging need to take account of this new skittishness. People may not feel as freely about offering opinions – or even indicating an emotion via Facebook's highly granulated emoji indicator – as they did one or two years ago.
If people are becoming too frightened to share posts or opinions on social networks, one must ask whether engagement on another – more secure channel – might offer a better path for the marketer. For example, a prospect might find it more assuring to convey personal information (such as an e-mail address) on a secure website where the interaction is percieved as being more secure.
While the NTIA study did not break out individual social networks, it may be that privay/data security fears are one of the factors driving young people to networks such as Snapchat, where their behavior is less easily examinable by 3rd parties, including marketers. If this is so, the social media marketer might examine whether these new, more private networks are worth investing effort in as an alternative to publicly-available ones.
Targeted Advertisers
While only a minority (23 percent) of Americans are worried about the data collected by online services, the rise of ad blockers – of which there are 200 million in circulation worldwide – is testament to the growing unwillingness of consumers to be imposed upon by tracking scripts, pop-ups, or other intrusions from marketers.
Facebook and Google – where most digital ad dollars are spent today – are acutely aware of the need to keep the information they gather about their billions of users secure and restricted to authorized use, and are likely to take steps to tighten up their marketplaces both in respect to what can be sold (guns, payday loans) and how these goods and services can be marketed. So there is likely no risk for marketers continuing to target people through these networks.
The risk faced by marketers increases when advertising outside of these networks. If you've been using aggressive retargeting – or a risky retargeting network —  you might rethink the wisdom of this method. There's no data associating aggressive retargeting with ad blocking, degradation of user trust, or other blowback, but plenty of anecdotal reports suggest that people who are "creeped out" when ads follow them will respond defensively – perhaps with an ad blocker or tracking blocker.
Retailer marketers
The fact that 26 percent of Americans may avoid online shopping should be a huge concern, especially to non-Amazon retailers (Amazon has an very high level of trust with Amerians; in 2013, a study from McCann indicated that only 7 percent indicated they considered it a threat to privacy).
If you're a non-Amazon retailer, you need to do everything you can to prove your bona fides to a justifiably suspicious population. Credibility can be earned through testimonials, positive reviews, and a clean record with the BBB. Google has a program called Trusted Stores that may help you burnish your online credentials. It's designed to serve as a filter separating reputable and disreputable online merchants, much like the Good Housekeeping and Better Business Bureau seals of approval.
There are other signals you can supply to the market that can show people you're real and transaction-worthy. Google recommends a specific set of features be present on your site to enhance your online credibility. Use them.
Content marketers
Content marketing – when it works – avoids tactics likely to engender user distrust while providing free, hopefully impartial information designed to be helpful to the intended consumer.  This tactic, when employed within a well-designed inbound marketing strategy, provides a secure channel between prospect and business in which the prospect consents (via the transmission of an email address) to a limited sharing arrangement with the business.
Content marketing isn't a panacea – it can be abused like any other tactic (for example, when the person downloading an eBook or white paper is robotically pestered incessantly for weeks as a result. Nor does even the best content have a chance of being appreciated in the competitive marketplace unless it is supported in some way (typically via paid social or search media), which is rarely done in a systematic way.
But at its best, content marketing can build trust, which – as we've seen – is a scarce commodity today with many American internet users. As we wrote back in 2014,
The best newspaper and magazine publishers have always understood that the trust built between publisher and reader constitutes a nearly sacred bond. This bond may take years to build, can be shattered in a moment, but if maintained provides a foundation strong enough to build an empire. A good publisher will run an article because it's a good article, not because it will necessarily boost circulation for that issue. Content in this context is generated not to generate a sale, but because it serves some larger purpose – to inform, to address an issue, and to tell the truth.

Latest posts by Didit Editorial
(see all)
Summary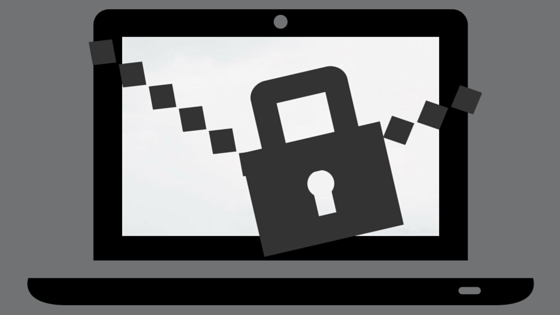 Article Name
Are Americans becoming too scared to share?
Description
Fears over data security may be causing Americans to share less on social media. What does this mean for digital marketers?
Author