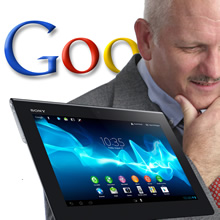 October 15, 2013: One of the big controversies over Google Enhanced Campaigns has been the merger of campaign targeting options for mobile and desktop devices. Marketers have expressed concern that the inability to break out tablet campaigns from the more general category of desktop clicks will be accompanied by an increase in CPCs.  Google counters that the majority of traffic will soon be mobile anyway, and that things need to be made easier for small business owners and mobile users.
This is a huge issue for many SEM marketers. Unfortunately, this issue is now out of their direct control. However, on the client side there is much that can be done to increase engagement,  conversions, and engagement with customers. The tablet is the way of the future, and we as marketers need to be prepared.This change in paradigm has happened before, as the mass conversion to mobile that has taken place in the past few years. The lessons from that past epoch are applicable here. Here are some best practice methods that can lower your CPC costs and enable you to stay ahead of the curve.
brace responsive design. Tablets comprise a rapidly increasing share of online traffic. While the majority of tablet use is at home, it's predicted that tablets will be the computing platform of choice for business travelers. Most likely, the functionality of tablets and desktops will merge, by way of such things as Bluetooth keyboards, advanced touch screen monitors for use on home PCs, and smart TVs.
Optimize landing pages for tablets. This practice is largely a matter of design, both in terms of website architecture and actual page layout. Images and layout need to be designed for tablet use – large buttons, vector images that can adapt to different sizes, larger input fields designed for tablet "virtual keyboards," and soon.
Embrace proactive SEO. Good SEO can also make life easier for PPC managers, and when possible PPC specialists should work closely with their SEO comrades. Good SEO, wise PPC strategies, and strong social work together in a virtuous triangle.
Redirect to specific landing pages.  A best practice is to create tablet-specific landing pages and URLs. Here, customers can be directed to pages that are optimized for their favored devices, and better, the pratice allows the tracking of keyword performance against devices in individual campaigns. This can allow for more finely grained campaigns and better competitive intelligence.
As always, we at Didit will continue to monitor ongoing developments in regards to Google Enhanced Campaigns.

Latest posts by Didit Editorial
(see all)