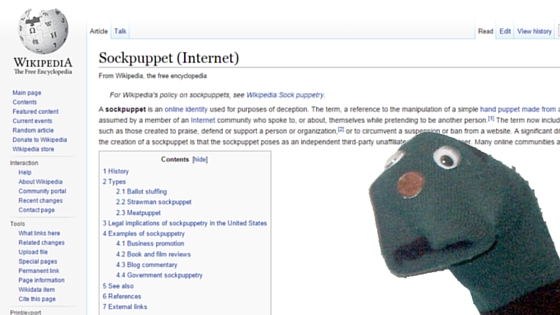 September 8, 2015: Getting your brand — or that of your client — into Google's Knowledge Vault (formerly known as the Knowledge Graph)  has definite SEO and PR advantages.  Data extracted from the Knowledge Vault is often displayed in a large panel on the right side of this SERP. This results in clicks, impressions, branding impact, and enhanced visibility.
The opportunity to force oneself favorably into the Knowledge Graph hasn't escaped the attention of aggressive SEOs and shady PR companies. Because the Knowledge Graph draws data from Wikipedia — a place where anyone can edit anything (subject only to the approval of the mysteriously insular group of volunteer content creators known as The Wikipedians) — SEOs often counsel their clients to build Wikipedia pages, create profiles on Wikidata.org, and otherwise stake out any directories from which Knowledge Graph data is extracted. Some even go further — by creating fake accounts they use to create phony pages filled with self-serving propaganda from their clients, a practice called "sockpuppetry."
A short history of sockpuppetry
In 2013, a Texas-based PR firm named Wiki-PR brought sockpuppetry into the mainstream. Using a small army of freelancers paid $9 an hour to colonize Wikipedia, it became so confident in its ability to bend Wikipedia to its will that it began sending thousands of emails out that read as follows:
Shouldn't <your brand> have a full-length, professional page on Wikipedia? Wiki-PR.com creates full-length, professional Wikipedia pages. We have software tools to manage your page in real-time.
Would you like more information? Please reply by email or provide your contact number. It will be worthwhile. A full-length, professionally written Wikipedia page will drive sales and inform your clients about what you do best.
Your competitors are getting on Wikipedia. Shouldn't you be on Wikipedia, too?
A lot of people answered "yes," according to an audit conducted by Wikipedia after an investigative article was published on the site of the DailyDot.com. The Wikipedians — much to their horror —  discovered that the firm had created more than 300 accounts on behalf of its clients, who paid between $500 and $2,000 to create Wikipedia entries. These accounts were subsequently removed as well as any entries associated with them.
Unfortunately, Wikipedia's 2013 crackdown didn't end the practice. In fact, this year sockpuppetry seems to be enjoying a kind of golden age. In June, a high-profile PR firm was forced to acknowledge that its "cleanup team" had modified the Wikipedia pages of supermodel Naomi Campbell, embarassing Campbell, the PR firm, and casting suspicion on the Wikipedia pages maintained by the firm's other clients, including Ben Affleck, Leonardo DiCaprio, the Hollywood Press Association, and the Golden Globe Awards.
And just last week, Wikipedia banned 381 accounts for sockpuppetry:
With this action, volunteer editors have taken a strong stand against undisclosed paid advocacy. In addition to blocking the 381 "sockpuppet" accounts—a term that refers to multiple accounts used in misleading or deceptive ways—the editors deleted 210 articles created by these accounts. Most of these articles, which were related to businesses, business people, or artists, were generally promotional in nature, and often included biased or skewed information, unattributed material, and potential copyright violations. The edits made by the sockpuppets are similar enough that the community believes they were perpetrated by one coordinated group.
Wikipedia's latest sockpuppetry bust had a distinctly sinister component. Unlike the PR companies, which simply promised clients that it could get them into Wikipedia, this new group of fraudsters was running an elaborate extortion scam involving the taking of private firms' pages hostage, posing as Wikipedians, and taking "protection" money. According to coverage in the UK's Independent Newspaper,
One of the firms targeted was British holiday company Quality Villas, in Berkhamsted, Hertfordshire. General manager Dan Thompson explained how they were duped. He had tried to set up a page about the company earlier this year, and a few days later was contacted by someone he believed to be from or on behalf of Wikipedia.
The individual told Mr. Thompson that his attempt to post about his company had been "declined because of lack of notability and the content up there did not meet Wiki requirements". But the individual added: "I will rewrite the content to make it Wiki acceptable using reliable references available and I will use my privileges to publish it."
Wikipedia isn't the Wild West

No one can say how many of Wikipedia's nearly 5 million articles — which most people assume to be neutral and unbiased — are in fact paid "advertorials" placed by PR and/or SEO firms. But given the ease with which articles can be created and modified on Wikipedia, the wide availability of identity-spoofing tools, and especially considering Wikipedia's big role in the Knowledge Vault, it's no big surprise that people are tempted to break Wikipedia's rules, which expressly forbid paid advocacy unless any such paid arrangement is disclosed (Wikipedia's policy document on this subject is available at: https://meta.wikimedia.org/wiki/Terms_of_use/FAQ_on_paid_contributions_without_disclosure)
"Black hat" editing isn't a victimless crime. It's a dagger aimed at the heart of Wikipedia's mission to provide the world with neutral, unbiased information.  And just as Black Hat SEOs have learned — the hard way — that Google is much better at detecting their efforts to game organic results than they thought, Black Hat Editors will sooner or later be found out on Wikipedia, and when they are, they — and their clients — will be exposed, humiliated, and humbled.
"Companies that engage in unethical practices on Wikipedia risk seriously damaging their own reputations," wrote Sue Gardner, the Wikimedia Foundation's Executive Director. "Being deceptive in your editing by using sockpuppets or misrepresenting your affiliation with a company is against Wikipedia policy and is prohibited by our Terms of Use. We urge companies to conduct themselves ethically, to be transparent about what they're doing on Wikipedia, and to adhere to all site policies and practices."

Latest posts by Didit Editorial
(see all)
Summary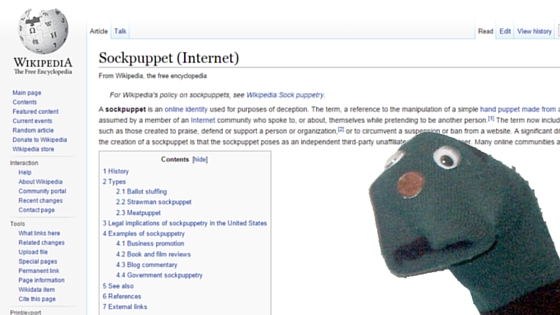 Article Name
Description
Wikipedia recently exposed shady SEO and PR companies that attempted to clean up client reputations using black hat methods, also known as "sock puppeteers."
Author